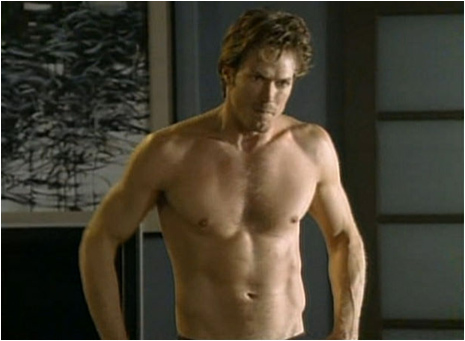 Claim to Fame: In Sex and the City, where he was a fairly regular member of the show's cast in its final season as waiter turned emerging young actor Smith Jerrod.
Jason Lewis Bio: Lewis has had roles in several films: My Bollywood Bride, a Hollywood/Bollywood romantic comedy where Jason plays the leading man, and Mr. Brooks. He is also known in Europe for playing the hunk on the Aero Advert for Aero Bubbles.
After appearing on the WB's supernatural drama Charmed, where he played the recurring role of Dex Lawson, it was announced on December 5, 2006, that he would be guest starring on upcoming episodes of Brothers & Sisters as a possible love interest to the character Kevin Miller (Matthew Rhys). He signed on to do seven episodes to play Chad Barry, a closeted gay soap opera actor who finds it difficult trying to develop a relationship with Kevin while keeping his sexuality secret from the Hollywood press. Lewis also had a role as a soap opera actor in the episode "Living The Dream" of House M.D.
Lewis is a supporter of the GLBT community. On May 10, 2008 Lewis attended the GLAAD 19th Annual Media Awards, which is a ceremony that celebrates gay-friendly actors and actresses as well as media outlets.
Nude Caps