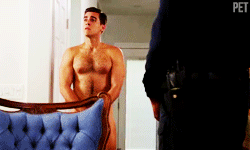 Josh Segarra Naked from the show Sirens
Josh Segarra made a couple of guest appearances on the USA show Sirens and what an appearance he made! All the girls are wanting to see more! I am wanting to see more! He has a great body. Check out this GIF as he is showing off his hairy chest and the beginning of a fantastic treasure trail. Maybe he will make more guest appearances and step out from behind the chair!
Check out more male actor nude GIFs here!
Josh Segarra Naked from the show Sirens