Name:  Jason Statham
Born As:  Jason Michael Statham
Birth date/place:  September 12, 1972 in Sydenham, London
Claim to Fame:  As "Frank Martin" in the Transporter films
Statham is quoted as saying, "You ain't ever gonna get an Academy Award for doing Crank (2006) and you certainly won't for doing all the other movies I've done".  Well, here's to better parts, Jason.
Statham was introduced to British director Guy Ritchie in 1998.  Ritchie needed someone to play the role of a street-wise con artist and had Statham audition for the part by having him impersonate an illegal street vendor and convince him to buy fake jewelry.  Statham was subsequently hired to play "Bacon" a street-wise con artist in Ritchie's film Lock, Stock and Two Smoking Barrels. In 2000 he again worked in a Guy Ritchie film, Snatch, with other stars such as Brad Pitt, Benicio Del Toro and Dennis Farina.
Statham landed the role of "Frank Martin" in The Transporter, The Transporter 2 and The Transporter 3. He will play the lead character, "Jasper", in the thriller 13 to be released in 2010.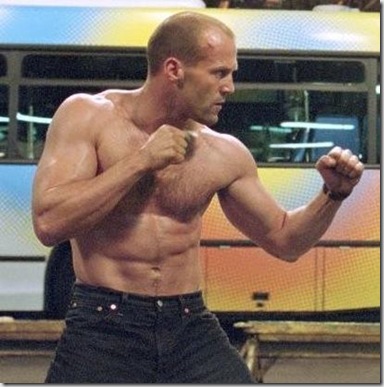 More Jason Statham Blogs: