Archive for the "David Boreanaz" Category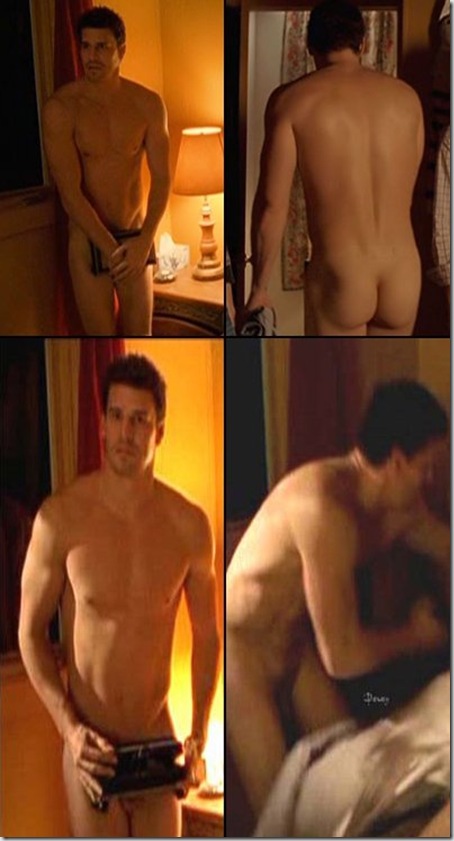 You catch both a full frontal and a bare ass in these screen caps of David Boreanaz in the film These Girls. Boreanaz has had most of his popularity on the small screen with shows such as Angel, Buffy the Vampire Slayer and his most current role as Seeley Booth on the comedy-crime drama Bones.
See More Nude Pics of David Boreanaz Here!
Name: David Boreanaz
Born As: David Patrick Boreanaz
Birthdate/place: May 16, 1969 in Buffalo, NY
Claim to Fame: As Angel/Angelus in Buffy the Vampire Slayer (1997-1999)
Bio Boreanaz was named one of TV's Sexiest Men by TV GUIDE in 2006.
Boreanaz made his first acting appearance with a guest spot on the hit American sitcom, Married… with Children, as Kelly's biker boyfriend. He was then cast in the television series Buffy the Vampire Slayer, after being spotted by a producer while walking his dog. The show became hugely successful and Boreanaz starred in a spin-off series, Angel, which gave his character a chance to evolve and concentrated on Angel's battle for redemption. He appeared on Buffy from 1997 to 1999, at which point he began starring in Angel, which ran until 2004.
Boreanaz's only starring role in a major theatrical film was in 2001′s horror film, Valentine. In 2003, he appeared in the music video for singer Dido's "White Flag", and was the voice of Leon (aka Squall Leonhart) in the video game Kingdom Hearts, but he did not reprise his role in the sequel. In 2005, Boreanaz began starring with Emily Deschanel on the current prime time television series, Bones.
See David Boreanaz's Archive of Nude Pictures and Videos
More David Boreanaz Blogs:

Male Celebs Blog | Actors Exposed | Men of TV | Shirtless Galleries