Archive for the "Antonio Banderas" Category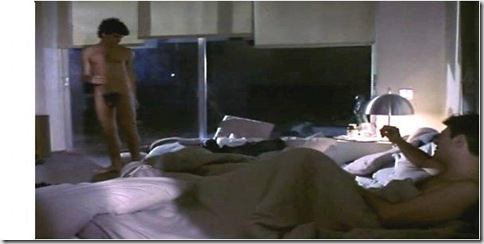 Naked Antonio Banderas does a scene in the film Delenos de Amor. He has never had a problem doing Nude scenes. You see them all over the place.
See More Nude Antonio Banderas Here!
Name: Antonio Banderas
Born As: José Antonio Domínguez Bandera
Birthdate/place: August 10, 1960 in Málaga, Spain
Claim to Fame: As Nestor Castillo in The Mambo Kings (1992)

Bio: Banderas shares, "I get more attention as "the pussycat" in Shrek the Third (2007) than I ever did as Zorro."
Banderas began his film career in Spain and eventually got his first American film role in The Mambo Kings (1992), and Philadelphia. His first starring role was in 1995′s Desperado and then co-starred with Madonna in Evita in 1996. Banderas received critical praise for his role as the fictional Mexican masked swordsman, Zorro in the 1998 film The Mask of Zorro. Other films include The
Spy Kids film trilogy and the last installment of the "Mexico" trilogy Once Upon A Time In Mexico.
Banderas' voice role as Puss in Boots in Shrek 2 and Shrek the Third made the character popular on the family film circuit. In 2005, he reprised his role as Zorro in The Legend of Zorro and then in 2006, he starred in Take the Lead, a high school-set movie in which he played a real-life ballroom dancing teacher. That year, he also received the L.A. Latino International Film Festival's "Gabi" Lifetime Achievement Award.

see the Antonio Banderas gay sex scene here