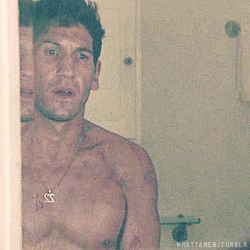 Jon Bernthal Ripped Abs and V-Cut GIF
Jon Bernthal doesn't look like he will have a body like he does when he is fully clothed.  So, this was a present surprise for sure!
Bernthal is a great supporting actor, not a leading man. But he does his job well. He has been in solid films and he is in various stages of production in four upcoming 2015 films.
He is currently in the upcoming  film Fury starring Brad Pitt and Shia LaBeouf.
Check out your favorite male actors in naked videos here!
Jon Bernthal Ripped Abs and V-Cut GIF