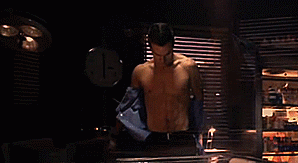 Shirtless Sam Witwer from Being Human
Sam Witwer has an incredible male actor 6 pack ab as seen in this perfect GIF. GIFs are great to show off how awesome the movements of perfect bodies can flex and stretch! I'll bet I could flex and stretch him in all kinds of great positions!
Witwer plays Aidan Waite in the show Being Human.  The show seems to be popular as it is currently in its 5th season. If you like this male actor GIF and you are in to fantasy/horror TV shows, definitely check out Being Human!
See tons of your favorite male actors nude here!
Shirtless Sam Witwer from Being Human